Dexamethasone Sodium Phosphate – Dilution powder to 10ml (SPC)
Dexamethasone sodium phosphate powder, ready for dilution and reconstitution in solution for injection, with the ability to make concentrated dexas.
It´s a dexa specifically designed to be applied before the race.
Presentation: 
40 mg dexamethasone 21 di sodium phosphate, In a 10 ml bottle to be dissolved in sterile water or sterile solution.
The equivalent solution is 4mg / ml,  or 4mg / cc, or  0,4% dexa.
It can be diluted with other products in aqueous solutions with good margin to solubilize, for example vitamins. It´s very common to dilute in solution of B15 for race.
Special feature:
You can make a concentrated dexa, only diluting with less liquid, in all cases the total content is 40mg, but the proportions of the solution are different:
a) For 10 ml , is obtained dexa 0.4% or 4mg/ml
b) For 9 ml , is obtained dexa 0.444% or 4.44mg/ml
c) For 8 ml , is obtained dexa 0.5% or 5 mg/ml
d) For 7 ml , is obtained dexa 0.57% or 5.71 mg/ml
e) For 6 ml , is obtained dexa 0.66% or 6.66 mg/ml
f) For 5 ml , is obtained dexa 0.8% or 8 mg/ml
g) For 4 ml , is obtained dexa 1% or 10 mg/ml
h) For 3 ml  , is obtained dexa 1,33% or 13.33 mg/ml
i) For 2 ml  , is obtained dexa 2% or 20 mg/ml
j) For 1 ml , is obtained dexa 4% or 40 mg/ml
The maximum capacity to dilute dexa sodium phosphate in water is 50mg / ml, it´s not recommended to try to dilute in less than 1 ml
Dosification & Administration for Race – to 4mg/ml :
For professional application not detected, read the article about dexa for race, Treat as 0.1% or 1mg / ml: Click Here
With other dexa products, dosages range from approximately 3 to 8 ml depending on many factors.
If you dilute this dexa with 10 ml of water or sterile solution, we recommend not to exceed for safe application not detected pre-race: 5 ml for 5 days, suspend 1 days before the race , but the last day : 
apply  Dexametasona 0.08mg/kg IV and also apply Furosemide 0.2mg/kg IV before the 5th hour before the extraction of samples for analysis for detection of drugs, blood and/or urine.
Recommended product with furosemide: Diuretic (Chinfield lab) o similary.
If you have any questions, consult your veterinarian or you can contact us for free advice.
Particularities
You can dissolve this product directly with a vitamin or an aqueous diuretic and it is compatible.
Another peculiarity: If you make very strong concentrations, this allows you to apply very small volumes of liquid. This technique is very required in certain enduro competitions where injection bleeding is penalized.
Similar Product:
Dexa Free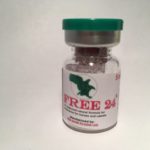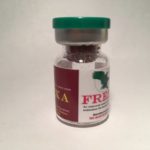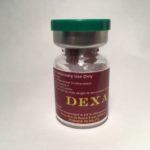 Additional information
Weight
28 g
Dimensions

9 × 5 × 5 cm