Glucodex A ( or Glucodexa, Eximerk lab) – 30 ml
Glucodexa, is a dexa additive with glucosamine and phenylalanine, which enhances the general anti-inflammatory action but especially in the joints.
Also Glucodexa has phenylalanine,  stands out as a fundamental essential amino acid, which our brain uses to produce certain neurohormones and chemical substances: dopamine, epinephrine and noradrenaline, especially.
Then it ´s a profiled product to help in the general pre competitive state to the race animals, functioning as stimulant precursor, pain reliever of general and especially articular state. Therefore it ´s especially recommended for horses and camels  high performance adults.
Presentation : 
30 ml bottle
Formula : 
Dexamethasone di-sodium 21 phosphate 0.4mg
Glusocamine 100 ml
DL- Phenylalanine 8 mg
Exp. Sterile Water 1 ml
or Bottle :
12 mg of Dexa S.P./ Bottle
3gr Glusocamine / Bottle
0.24 gr Phenylalanine / Bottle
Dosification & Administration for Race – Horses And Camel :
For professional application,  read the article about dexa for race, Treat as 0.04 mg/ ml or 0.04% , (Low Dosis dexa S.P.) : Click Here
For safe application pre-race: 5 ml for 5 days IM or IV,  
Moderate treatment:  5 ml for 3 days IM or IV,

Power treatment: 10 ml for 5 days IM or IV, 
Minimum treatment time: 1 shot, (1 day)
Maximum treatment time: 5 days (Maximum synergy of product characteristics)
but for Maximun Power for race, the last day : apply  Dexametasona 0.08mg/kg IV only,  and also apply Furosemide 0.2mg/kg IV only before the 5th hour before the extraction of samples for analysis for detection of drugs, blood and/or urine. Recommended product with furosemide: Diuretic (Chinfield lab) o similary. This technique in some animals can extend the detection of the products, test it before and analyze
Maximun dose : 20 ml IM
Minimun dose 2 ml IM or IV
If you have any questions, consult your veterinarian or you can contact us for free advice.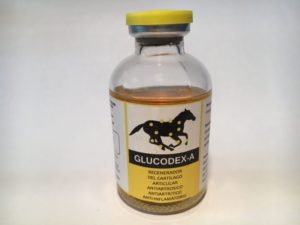 An old presentation of Glucodexa, but still in force, can be found in some Middle Eastern veterinarians and Eurpoa is this.
This bottle was slightly larger in diameter and with rounded upper edges.
The label has slightly changed its format, but the design is the same. The seal remains of its classic yellow color.
Its incredible golden color makes it a beautiful product in sight and remains the same in all presentations. It's similar products in oil base, although it has an aqueous base.